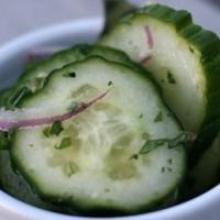 Super Fast Thai Cucumber Salad Recipe


red onion,

cucumber,

salt,

rice vinegar,

sugar


Fast and delicious!!!
Toss all the ingredients into a boil and let stand for 30 minutes. This is meant to be eaten immediately, but leftovers can be refrigerated, covered, up to 2 days. People Who Li...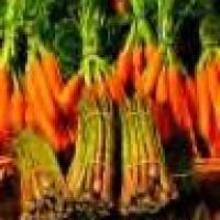 Sesame Asparagus-and- Carrots Stir-fry Recipe


sesame seed oil,

sesame seed,

ginger root,

carrot,

asparagus,

soy sauce,

water


I also got this one from my Mayo Clinic book. I love this one. I sometimes add mushrooms and greenbeans.
Cut the asparagus into 1/2-inch thick slices. Cut the carrots into 1/4-inch thick slices. Coat...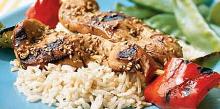 Chicken Skewers with Soy-Mirin Marinade Recipe | MyRecipes


chicken breast,

rice wine,

red bell pepper,

green bell pepper,

sesame seed oil,

cooking spray,

sesame seed,

soy sauce,

mirin,

rice


Isaac enjoys Japanese-style grilled specialties like these chicken skewers with soy-mirin marinade. The marinade would also pair nicely with salmon. Serve with sautéed snow peas.
Instructions Che...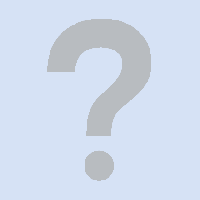 Vegan Chapatis Recipe | SparkRecipes


olive oil,

salt,

water,

flour


This flat bread has it origins in India and goes great with curries.
In a large ceramic bowl, stir together the flour, salt, and oil. Slowly add the wter to form a soft dough. Knead for 5 minutes. Cov...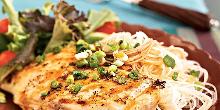 Chicken with Sherry-Soy Sauce Recipe | MyRecipes


chicken breast,

red pepper,

dry sherry,

sesame seed oil,

cooking spray,

pepper,

spring onion,

red wine vinegar,

soy sauce,

salt,

sugar


Serve this Asian-inspired chicken recipe with salad greens and quick-cooking rice noodle for an easy meal.
Instructions Checklist Step 1 Heat a large nonstick skillet over medium-high heat. Coat pan...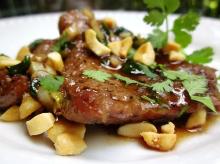 Thai Pork Chops Recipe - Food.com


oil,

peanut,

coriander leaf,

jalapeno,

garlic,

pork ribs,

fish sauce,

sugar


Another recipe from Cooking Pleasures that I am putting here for safe keeping. Serve these with some jasmine rice and green beans for a lovely meal. Feel free to adjust the amount of jalapenos you use...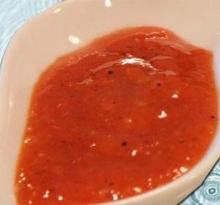 Sweet and Tangy Dipping Sauce Recipe by admin | ifood.tv


light soy sauce,

tomato paste,

hot sauce,

cornstarch,

worcestershire sauce,

apple cider vinegar,

tomato ketchup/catsup,

brown sugar,

orange juice


1. In a saucepan, combine orange juice, brown sugar, vinegar, ketchup, soy sauce, cornstarch, tomato paste, Worcestershire sauce and hot pepper sauce; mix well. 2. Bring to a boil; stir constantly ab...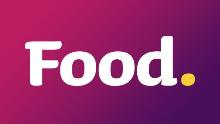 Steamed Buns Recipe - Food.com


yeast,

oil,

salt,

sugar,

water,

flour


From Dim Sum restaurants to your home :P
Serving Size: 1 (69) g Servings Per Recipe: 16 AMT. PER SERVING % DAILY VALUE Calories: 178.3 Calories from Fat 15 g 9 % Total Fat 1.7 g 2 % Saturated Fa...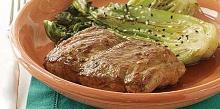 Hoisin Pork Steak Recipe | MyRecipes


pork loin,

red pepper,

hoisin sauce,

cooking spray,

salt,

rice vinegar,

honey


Butterflying the pork tenderloin and pounding it to a 1/4-inch thickness helps these pork steaks cook fast and ensures a fork-tender bite. If you can't find baby bok choy, use a large bok choy, bu...

 -1-    2     3     4     5     6     7     8     9     10      Next
The recipes shown can not be guaranteed to match all your search parameters. There will be some errors in our database, occasional errors in the text of the recipe (on the external website) we actually link to and differences of opinion on what ingredients we should exclude in our allergen groups (see here). You must personally check any recipes against your requirements, particularly dietary requirements.

Local recipe collections can also be browsed here.

Search Time: 0.01